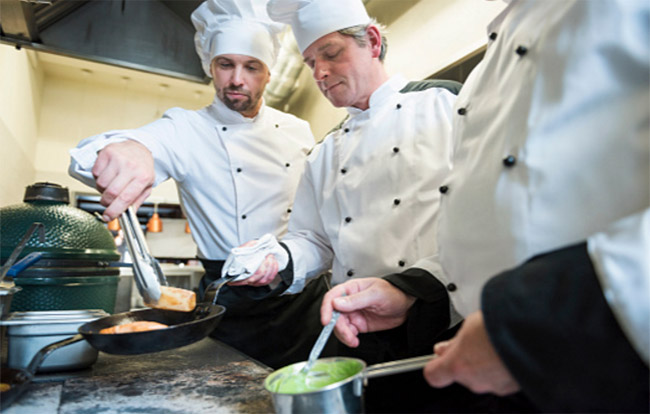 Chef Andrew Holden is the Executive Chef at Cedar Knoll in Alexandria, VA.
The Historic property once owned by George Washington is now home to one of Alexandria's finest restaurants. The newly renovated Cedar Knoll reopened its doors in December 2015 thanks to the hard work of Chef Andrew Holden, his brother Chris, and business partners, Neal and Charlie.
Chef Andrew, who grew up in Tennessee and North Carolina, moved to Virginia over 22 years ago. While attending VCU in Richmond, Andrew worked for a catering company and a few local restaurants to earn money to help finance his schooling. He soon realized his passion for the culinary world and found himself immersed in cooking shows and cookbooks of all kinds. He especially liked shows featuring Jacques Pepin and Jaimie Oliver. While working to perfect his cooking skills at the renowned Jefferson Hotel in 2002, he began working with a sous chef named Charlie Blevins. Charlie would later become his business partner at Cedar Knoll. Based on his experience at the Jefferson Hotel, Andrew got his first Executive Chef position at the Crowne Plaza in Richmond. From there, Chef moved up to Northern Virginia after being offered the dual position of Executive Chef and Food and Beverage Director at the Hilton in Crystal City.
While he enjoyed his experience working in hotels, Andrew was ready for the next step in his culinary journey. He took on the role of both Executive Chef and Director of Culinary Operations for two DC food specialty companies – Food Art and On the Fly. Both companies specialize in coordinating the kitchens in museums across Washington DC and are known for their eco-friendly food carts on the National Mall. Soon after, Chef Andrew started his own catering company called Joy of Eating.
While working one of his catering jobs, Chef stumbled across a restaurant site available in historic Alexandria. Always wanting to own his own restaurant, he and his business partners got straight to work and were able to transform Cedar Knoll into the beautiful restaurant that it is today.
Chef Andrew's passion for cooking is evident through his creative dishes at Cedar Knoll – including some of his favorite brunch items and his local seafood dishes. He continues to strive to improve his cooking skills by trying new recipes, learning from cooking shows and dining at fine restaurants to help him live his motto "Always be creating!"
When not in the kitchen, Chef Andrew takes advantage of living in the DC area and enjoys canoeing down the Potomac and cheering for the Washington Nationals. He is also a talented drummer and amazingly finds the time to play in two local bands – "The Grey A" and "The Veins" down in Richmond. But he admits that cooking will always be his first passion and he is looking forward to further developing his culinary skills at Cedar Knoll. Chef Andrew hopes that customers will come to Cedar Knoll for the history, the beautiful setting overlooking the Potomac and the excellent cuisine. The restaurant is located at 9030 Lucia Lane off the George Washington Parkway in Alexandria, Va.