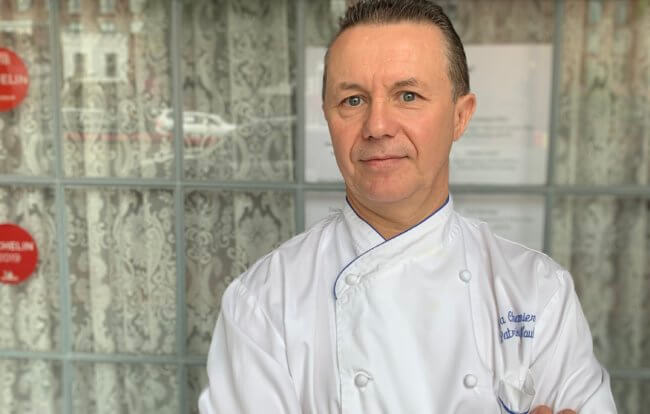 The chef keeping La Chaumiere a classic
Chef Patrick Moulet grew up in Southwest France with the Pyrenees as his backyard and a home-kitchen constantly in motion. His culinary journey goes far beyond the small town of Artagnan; traveling to and working in Thailand, Mexico, Northern France, and DC. Now stationed at the 43-year Georgetown staple, La Chaumiere, Patrick has gone back to his roots cooking classic French cuisine for DC-natives and tourists.
Moulet always liked food; his mom, grandma, and great aunt helped develop his likeness of food to a love of cooking. He grew up on a farm filled with pigs, ducks, geese, chicken, and various other game. He had access to fresh ingredients from their big garden and still remembers how fresh the carrots tasted. As a young boy, his first job in the kitchen was to taste and watch his female role models cook. Then he began helping to prep and cut the ingredients. Next, he learned classic techniques and recipes including curing ham, making sausage, and making delicious black pudding.
He completed his apprenticeship in 1983, then joined the military for one year to fulfill the French requirement. Until 23, he was a charcutier then served as a sous chef for Claumet before venturing to Northern France. He then traveled to Thailand and picked up on new flavors, recipes, and ingredients. He traveled to Cancun in 1989 and met his current wife there. For a few years, he worked at L'Ambroisie in France before starting his first restaurant in DC, La Colline. In 2008, Moulet began at La Chaumiere along with various other jobs, but then settled here.
La Chaumiere, meaning "cottage" in French, emulates that exact translation from the moment you step into the dining room. The walls are adorned with antique farm and kitchen tools, French countryside photos, and accolades from previous years. The room has dark wooden beams and is split with a rustic fireplace. You could forget that outside is the hustling M Street of Georgetown.
La Chaumiere serves classic French dishes that's nearly impossible to find anywhere else in DC. Their menu includes:
Tripes à la Mode de Caen – tripes, carrots braised in calvados
Boudin Blanc – mild chicken and pork sausages with sautéed apples
Foie de Veau à l'Ėchalote – calf's liver sautéed with shallots and vinegar
Cervelle de Veau au Beurre Noir – calf's brain sautéed with brown butter and capers
Chef also includes a special that changes every two weeks. He recommends trying the Quenelles de Brochet, a house specialty, a pie dumpling baked in a lobster sauce. Other recommended classics include, Cassoulet, Medaillons de Boeuf, and Steak au Poivre. Of course, dessert has to be the classic Soufflé.
Quality products is what Chef Patrick says is the most important aspect of his job. "If you don't have good products, you don't have good food." His favorite aspect of his job is training and mentoring. Simply put, his best compliment is when people thank him for his food.
Outside of work, Moulet likes to travel and fish. When he's at home, he loves to grill and play with his Chihuahua, Chica. He recently traveled to Napa Valley with his wife and is already planning another trip back. They love to visit their daughter in
Charleston and their son in West Virginia. His most recent trip to France, he was able to visit the first chef to ever mentor him, now 98 years old. His son and grandson now run their restaurant. They're like family to chef Patrick.
Merci beaucoup et bon appetit.
2813 M Street, NW
Washington, DC 20007
tel:202.338.1784