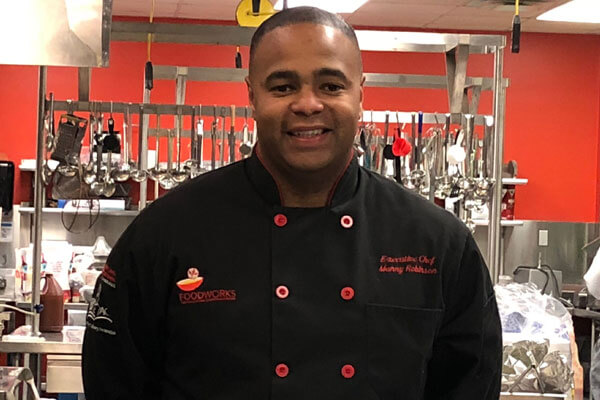 Chef Emmanuel Robinson, Executive Chef at FoodWorks - Maryland Food Bank
Chef Emmanuel Robinson, or Chef Manny, as he likes to be called, obtained his Degree in Culinary Arts Management from the Baltimore International College. He was awarded the title of Certified Executive Chef in 2014. Chef Manny recently was presented with an "Executive Citation" for his collaboration as a member of the Baltimore County Workforce Development Board. Chef Manny has also worked at such world renowned companies as, Radisson Hotel, Compass Group, Bon Appetite amongst others. Manny is committed to providing professional tutelage which develops people in the field of hospitality.
Chef Manny respects quality ingredients and supports efforts to reduce the impact of food service operations on the environment. Chef Manny engages local farmers and vendors to showcase regional ingredients in an effort and improve the sustainability of our hospitality culture. Manny motivates and challenges his students to be solution-driven, while developing character that transverses success from the kitchen into their everyday lives.