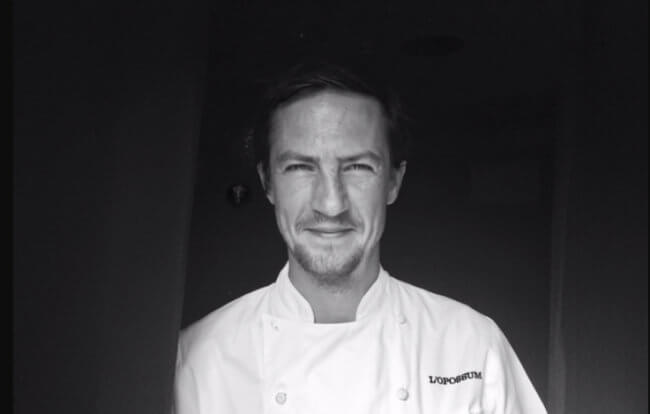 Chef James Garland of L'opossum
Chef James Garland has been improving his cooking skills in the kitchen since he was twenty years old, but he recalls his passion for food beginning much earlier in his childhood. That passion has led to the ability to create exquisite culinary masterpieces as the Sous Chef of the 2018 South's Best Restaurant, L'opossum, Richmond's premier French cuisine restaurant.
James was born in Augusta, Georgia, where his father proudly served his country as a member of the armed forces. As a result, moving around was a way of life for the Garlands, but this introduced James to a variety of flavors and cooking styles he wouldn't have experienced otherwise. As early as the age of ten, James has fond memories of setting aside time to watch his favorite cooking shows, and was amazed at the creations he saw come together before his eyes. James eventually found himself and his family relocated to Richmond, Virginia, where he has called home for the past 17 years.
At the age of twenty, James was hired into his first restaurant job. Although he always liked to cook, he was not aware that a little prodding from his first Chef De Cuisine and mentor, would transform his like into a complete love for the culinary arts. His mentor introduced him to the fundamentals and history of food, and he credits him for ingraining that love that would follow him throughout his career. It wasn't long after being hired that James' thirst for knowledge surrounding cooking was insatiable. James began reading everything he could get his hands on regarding cooking, and took a very hands-on approach to develop his skills in the kitchen.
One of his true loves within the kitchen is teaching. The opportunity to collaborate with other chefs and pass on his skills to those that are up and coming, allows James to continually perfect his craft. James believes that being a chef is a state of mind, meaning he must constantly be prepared to teach others, but above all, take care of his customers. Chef James loves creating a complete experience for those that dine at L'opposum, and the greatest compliment he can receive is seeing the joy that his creations bring to his customers.