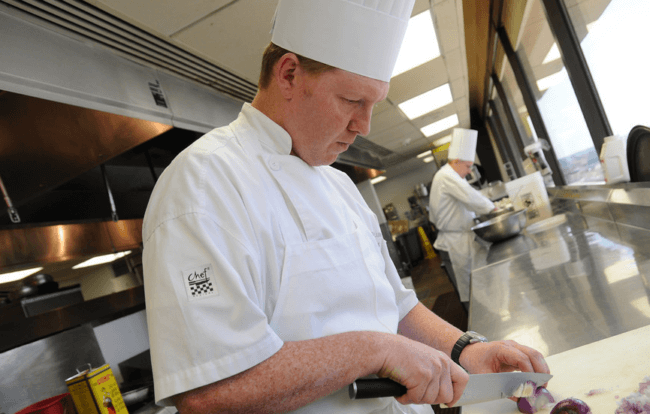 Executive Chef Jason Hayes from the Howard Hughes Medical Institute in Chevy Chase, MD
Executive Chef Jason Hayes from Howard Hughes Medical Institute – Chevy Chase, MD
          The Howard Hughes Medical Institute (HHMI) is the nation's largest private supporter of academic biomedical research. At its headquarters in Chevy Chase, Maryland, Chef Jason serves lunch to over 350 employees, daily, and provides food for attendees of multi-day conferences that pertain to science education and biomedical research. He creates food alive with flavor and nutrition, prepared from scratch using authentic ingredients and recipes. His menu rotates on a cycle with meat, seafood, and vegetarian entrees changing daily. Standard menu offerings on a normal day consist of made-to-order sandwiches, pizza, stir-fry stations, and over 60 items included in a salad bar. Combined with the commitment to using fresh ingredients, food starts at its simplest and most natural form, purchased locally and based on seasonal availability. Fresh ingredients used in the kitchen are complemented with cooking techniques that preserve nutrition and produce healthy dishes. Chef Jason and his team's attention to quality is high, and their dedication to service is phenomenal.
Born in Worcester, Massachusetts, Chef Jason always knew that he wanted to be a chef. As a young child, he observed that food brought people together – whether it was for holidays, funerals, weddings, or family gatherings, food was a uniting factor. He was in love with food. Chef Jason often spent time with his grandparents in the summer, where he remembers watching his grandmother dance elegantly around the kitchen, stirring, baking, and tasting – his own version of the cooking channel. It didn't matter what she was making ¬– blueberry muffins or her tuna salad with a ketchup twist – he sat in the corner taking it all in. From his grandparents' kitchen, he understood that everyone has their own style of cooking and every dish has a different version based on the cook's unique touch. Summers in Ogunquit, Maine, spoiled him with live lobsters, fresh-off-the boat tuna, and steamers. His home was farm-to-table before it was considered a trend and uncured chicken hotdogs and organic food from co-ops were the norm. The kitchen is a special place, where he spent time watching his grandmother cook, volunteered with his dad at the Knights of Columbus for special functions, and grew into the executive chef he is today.
Chef Jason has 24 years of industry experience – starting with his learning experience at Burger King. He firmly believes that if you are receptive, you have the ability to learn wherever you go. Chef Jason credits his time at Burger King with his knowledge of time and temperature, sanitation, and customer service. At 16 years old, after mastering all aspects of Burger King, he moved on to full-service restaurants. Chef Jason holds a bachelor's degree in food service entrepreneurship and an associate's degree in culinary arts from Johnson and Wales University in Providence, Rhode Island. Instilled with a strong work ethic that he attributes to his father's influence and personal experience, Chef Jason is proud of the progress he has made in his career and looks forward to what the future will bring.
Being a chef is an art form. Cooking is the creative ability to grab a handful of items out of the refrigerator and produce a great meal, switching styles of cooking freely – from making pizza, fine dining cuisine, cakes and pastries, buffets for large groups, or action stations for the cafeteria. Food is far more than just necessity for our health. Food contributes to the creation of community. Chef Jason identifies dining rooms as gathering places and believes that breaking bread together helps create a sense of belonging and comfort. Every member of his team plays an important role in the foundation of such a community on campus. Chef Jason strives for diversity both on the menu and in his staff. They must be prepared to work in a dynamic, changing environment. Creativity and constructive contributions from vendors, staff, and customers are encouraged.
To reach beyond the Institute's walls and into the community, Chef Jason teaches his staff to think outside the box of conventional restaurant success. He wants to empower his employees to come up with innovative ideas, keep up with trends, and get involved in menu development. Skills for the job are easily taught, but he believes that the motivation has to be there for the relationship to work. Chef Jason makes a point to be two steps ahead of everyone and he believes that this is the most important part of his job. He has to anticipate the needs of his staff, his customers, and the operation itself. Balancing the needs of a multi-generational staff and customers – from millennials to baby boomers – is a full-time job. Everyone has unique needs, tastes, and work ethics, and he considers them all as part of the cogs in his operational machine. This environment keeps Chef Jason ahead of trends, allowing him to produce different menu offerings that appeal to a broad spectrum of clientele. What makes it all worth it? Chef Jason finds a simple "thank you" to be the sincerest compliment.
Being a chef isn't just Chef Jason's full-time job. When he isn't cooking for the crowds at HHMI, he is cooking simple meals at home for his family. As a husband of 14 years to his wife, Angela, and a father to his two daughters, Saffron, 12, and Shiraz, 9, his home life is just as fulfilling. He enjoys spending time in his garden where he grows herbs, vegetables, and flowers. There is nothing better to Chef Jason than eating a vegetable grown by his own hands and having fresh flowers inside and outside year-round. Apart from cooking and gardening, he enjoys making his own craft cocktails and visiting local breweries, distilleries, and wineries around the Washington, DC Metro Area. All other snippets of time are filled with his duties as a father, catching his daughters' sports games and hustling them to their next activities. A full-time chef and full-time family man, Chef Jason possesses many talents. With his enthusiasm for food and passion for creating community around it, he will become an influential figure and a driving force in the culinary industry.