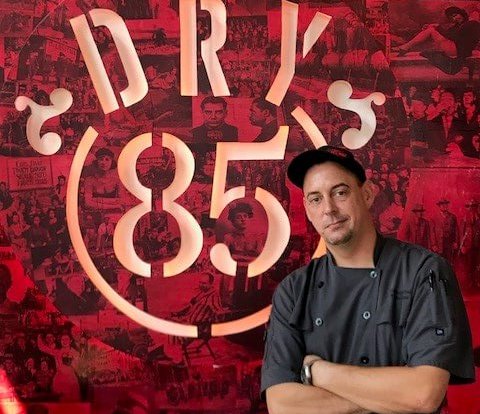 Executive Chef Jordan Bohall of Dry 85 & Red Red Wine Bar - Ocean City, MD
September's Chef of the Month is Executive Chef Jordan Bohall of Dry 85 & Red Red Wine Bar in Ocean City, Maryland 
      Born in the Everglades in Naples, Florida, Chef Jordan Bohall moved to Ocean City at the age of 12. A year later, at 13 years old, he started cooking at Big Huggers Sub Shop during the summer making $4.15 an hour. At Big Huggers, many of the down town locals would request for Chef Jordan to cook their lunch because they explained that it was "fun to see little Jordan rocking the grill" through the open kitchen. At home, Chef Jordan's mom wasn't the best cook. Being the good son, he would often sneak into the kitchen to add seasoning and check the temperature of the food when she isn't looking. Always seeking growth, Chef Jordan is never satisfied with his current position or level. He's made his way from the bottom to line cook, sous chef, and where he is now. This is part of his ambition, to always strive to do more, to be better, and to be able to create an amazing dish and watch people enjoying it.
      Chef Jordan Bohall's path started at Big Huggers Sub Shop at a young age. He continued his journey through high school working at South Side Deli in Ocean Pines from the tender age of 16 until he was 28 years old. He made his mark at Micky Fins Bar & Grill and at Baywood Greens as the Banquet Chef for about 3 years. His rise to Executive Chef was at Bethany Blues where he spent another 3 years perfecting his craft. With an extraordinary culinary grassroots background, he learned everything he knows from experience – for Chef Jordan, every job taught him a skill. His time at Micky Fins and working under the tutelage of Chef Michael Clampitt at Baywood Greens gave him a background in fine dining and the management skills to run a kitchen. Bethany Blues gave him a love for southern comfort food with a side of big scale events food management. Chef Jordan found himself at Dry 85 & Red Red Wine Bar for the next step of his journey – multi-restaurant management as an Executive Chef. On the rare times you find him outside of work, he is at home flexing his culinary muscle by creating Spanish Asian fusion dishes for the menu of a restaurant he hopes to open someday.
      Chef Jordan's management and mentorship style follows his personal philosophy of growth and learning from experience. He wants his team to be constantly learning and training for the next level. He finds great satisfaction in taking a line cook and teaching them the skills to become an Executive Chef on their own. Chef prides himself on creating a family atmosphere where he mentors his team like a father would mentor their child. Chef Jordan likes to team his team the basic skills necessary then allows them to create their own dishes. He critiques their dishes and allows the dish to be featured on the menu – with their name, giving credit where it is due. He finds that this empowers his team and shows them that they are capable of so much more. For Chef Jordan, a great day starts with a team that is set up for success with knowledge, good knife skills, and a well-maintained kitchen and work station. He believes good customer service means learning from the critiques of your guests when creating a menu and making every experience enjoyable. The greatest thing is getting a good compliment from tourist and from 30-year Ocean City regulars claiming that Dry 85 or Red Red Wine is the best place they have been to in a while.
      Free time? What's that? Chef Jordan is a self-proclaimed workaholic. As the Executive Chef and Front of the House of both Dry 85 and Red Red Wine Bar, you can almost always find him in the shared kitchen with his team. On the rare occasion he is missing in action, you can find him on the beach with his girlfriend, Taylor or at home cooking up that Spanish Asian fusion dish you may someday find when he opens his dream restaurant. Meanwhile, Dry 85 and Red Red Wine Bar is making a splash as unique restaurants in Ocean City. Chef Jordan happily invites all to come and recommends Dry 85's Blueberry BBQ Ribs with a side of seafood mac, and from Red Red Wine Bar, he recommends the cheese board, some beautiful wine, and the Pear Prosciutto Pizza.
Honors:
2010 – Ocean City Crab Soup Champ
2014 – Chili Cook Off 2014 Winner
2015 – Chow Down for Hunger Winner (out of 40 participating restaurants)
2017 – Chocolate Fest Runner Up
2018 – Mispillion River Brewing present Best Meatball in Delaware Winner
2018 – Best New Restaurant 2018 by Metropolitan Magazine