Chef de Cuisine Kevin Dubel
Hospitality-Driven Chef at Virginia Beach's Boutique Cavalier Hotel
Written by: Cassidy Williams | Photography by: Davis Ad Agency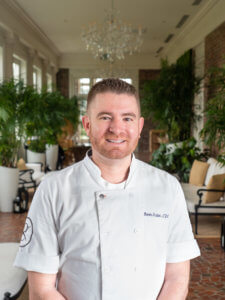 The food scene for beachgoers in Virginia Beach has drastically changed over the past several years. Case in point: Chef de Cuisine Kevin Dubel of Becca at The Cavalier Hotel. The Cavalier Hotel is a historic 1927 luxury hotel cunningly restored and reimagined. It sits atop one of the only "hills" of Virginia Beach with fantastic views of the Atlantic Ocean.
The Cavalier boasts two restaurants—Becca and The Hunt Room, and an in-house distillery—Tarnished Truth. The Hunt Room is an ode to its early guests who could rent the hotel's horses and hunting dogs for the day and bring back their kill to be prepared by the kitchen. The Hunt Room, led by Chef Sam Reyes has taken on a new menu approach, while the hunting ambiences of the restaurant were well-preserved. Becca is tucked into the main level of the hotel, guests can dine in either the beautifully decorated main dining room or be seated outside in a garden oasis where the kitchen will harvest herbs from. It was renamed from its original title "The Pocahontas Room", as a modern twist to Pocahontas's English name, Rebecca, hence "Becca" was born.
Chef de Cuisine Kevin Dubel has been with The Cavalier since its reopening in 2018. Dubel holds that the most important aspect of his job is "responsibility. The responsibility to your guests, the business, and to yourself as a chef."
Chef Kevin grew up in a small quintessential New England town called Vernon, Connecticut. He was not expecting to go into the food industry, considering becoming an architect or a cop, but he "got bit by the bug" while dishwashing for a family-friend's restaurant at 16 years old. Soon after high school, the restaurant's owners advocated for Dubel to attend hospitality management school. Before graduating, he was offered his first chef position.
Although he has never received any formal training, Chef Kevin accredits his culinary skills to the mentors he has had along the way. The first moment where he truly knew this was what he wanted to do for the rest of his life was after his first day at the Grammercy Tavern in New York. After his first shift, Chef Michael Anthony gifted him a book called "Setting the Table" which became Dubel's ultimate guide to hospitality. Later, he transitioned to work at Burton's Grill and open a few of their locations across the East Coast. This ultimately brought him to the Virginia Beach area 11 years ago, leading Terrapin for four and a half years. Other chefs that inspire Dubel include, Enrique Olvera of Pujol in Mexico City and Dan Barber for creating the best dining experience he's ever had.
It was at Terrapin where he learned the skills for homemade pastas, the practice of whole animal butchery, and the appreciation of hyperlocal ingredient sourcing. Ingredients, according to Dubel, inspires his creativity; being able to walk the fields of farms, partner with credible vendors, and watching other chefs to stay relevant and collaborate.
In his spare time, Chef Kevin reads what he calls "coffee table cookbooks", filled with detailed photography of each dish. He uses the cookbooks as inspiration for what's on trend, new recipes to create as his own, plating techniques, and expand his culinary vocabulary. These influences have spilled over into his menu creation at Becca. His menu has Asian, Middle Eastern, and North African nuances "purely because of the flavors they can bring to the table" says Dubel.
In order to maintain a diverse menu, Chef Kevin takes a pro-active approach to training his team. His own training experience from chefs throughout his career has transferred into his kitchen. Dubel takes the time to teach someone how to make something rather than having an expectation of their skills. His main lesson: thoughtfulness.
From the moment an ingredient comes into the kitchen until it is on the plate, it is thought out. Each ingredient, cut, and choice of plate is considered before reaching its final presentation.
As a hospitality-driven chef, Dubel loves the feeling of knowing he created a wonderful experience for guests. In fact, his favorite compliment is when he can change someone's mind about a specific food. His recommendations at Becca: Herb Crusted Domestic Lamb Chops and Sea Scallop Crudo.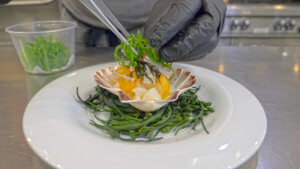 Over the past five years, Chef Kevin has seen tremendous talent come to Virginia Beach's food scene, saying it's on par with Richmond and DC. His latest project has been working with the corporate chef of Marriott for the new 300-room hotel being built across the street from the Cavalier. It will include two restaurants, including a rooftop Asian-inspired eatery, which will also uphold Dubel's quality-driven and locally-sourced values.
The Cavalier | Virginia Beach
4200 Atlantic Ave
Virginia Beach, Virginia 23451
Becca | Open Daily
Breakfast: 7:00 a.m. to 11:00 a.m.
Lunch: 11:30 a.m. to 4:00 p.m.
Dinner (Sunday – Thursday): 5:00 p.m. to 9:00 p.m.
Dinner (Friday & Saturday): 5:00 p.m. to 10:00 p.m.
Sunday Brunch: 7:00 a.m. to 4:00 p.m