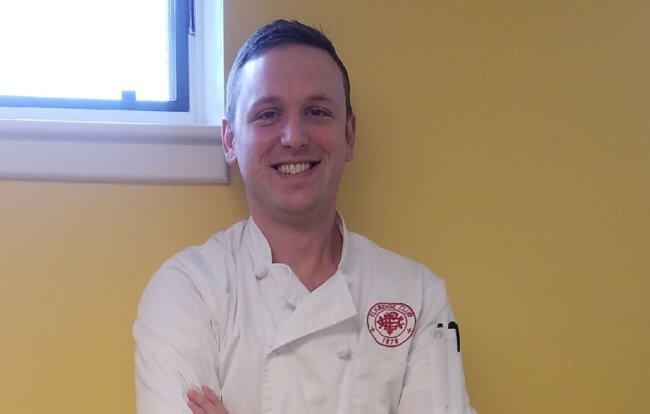 Chef Michael Stetka Jr., Chef de Cuisine of The Elkridge Club
Chef Michael Stetka grew up in Perry Hall, just north of Baltimore. Growing up, the list of things he wanted to be was endless, but he always had a passion for creating food. His dad has always worked in the food industry but on the distribution side of things and it exposed Chef Michael to professional chefs at a young age. It was no surprise that for his first job, at 15 years old, he found himself working at a seafood restaurant. At that time the Executive Corporate Chef from Philips Seafood gave him some advice. Chef Michael recalls how the Executive Corporate Chef told him that if he could do it over again he would have gone to college for something other than cooking, and that stuck with him.
So Chef Michael ended up going to college for economics and political science but then decided he wanted to go right back to working full time in kitchens. He lived in Colorado for 5 years and worked at a high end Tex-Mex fusion restaurant as a sous chef and then as a purchasing manager for Vail Resorts Food and Beverage. When he came back to the East Coast, back to Maryland, Chef Michael started working as a kitchen manager at DeSantis' in Perry Hall for several years. As far as his culinary education, Chef Michael has always been very driven as a self-learner and he humbly attributes his achievements as being lucky enough to work under some very talented chefs. He feels that never going to culinary school has allowed him to keep a very open mind to what can and can't be done in a kitchen.
The biggest reason Chef Michael loves being a chef is that he gets paid to play with food and to express his passion. When he hears the members of the Elkridge Club claiming that they prefer to come eat dinner there over any restaurant in Baltimore, it is a great feeling. He feels that while this job is very demanding, it is also very rewarding. Chef Michael take a lot of pride in all of his responsibilities as a Chef and when he achieves certain budget goals or get a certain compliment on a dish, it is the best reward. To Chef Michael, his employees are future chefs and he tries to treat them as such. His desire is to help them when they decide to take the next step in their careers. It is important for him that his team get better each day and learn something at work as opposed to just coming in and doing the same thing day after day. For Chef Michael, there really isn't one thing about his job that is more important than another, but his main three priorities are creativity, cleanliness, and consistency. If he can excel in those three things, he knows he will be successful overall.
Outside of work Chef Michael is an avid outdoorsman, so anything that falls in that category he is happy with. Newly married in October to longtime girlfriend, Claire, a wedding specialist in the hotel industry, Chef Michael loves taking his new wife and his dog, Aspen, on as many hiking adventures as he can. With a job spent cooking all day, he still tries to cook at home at least once a week but he tries to keep it simple on the grill or with his favorite cuisine of Cajun food – red beans and rice with andouille sausage is a staple in his home.
The food at the Elkridge Club is unique because it isn't what you would think of as "country club food". Chef Michael takes pride in the fact that club members choose the club over any restaurant in Baltimore because the food is simply just that good. With his team, Chef tries to push the boundaries and he loves taking classic dishes and putting modern spins on them. A favorite example of this is his prosciutto wrapped veal meatloaf with pommes dauphinoise instead of meatloaf and mashed potatoes. He takes pride of the Elkridge Club's dry aging room and he feels that it sets the club apart from others. He strongly recommends the 60 day dry aged New York Strip, served with the house made Worcestershire or steak sauce. Chef Michael categorizes the cooking style of the Elkridge Club as Modern American. This along with fusion and gastropub fare is his preferred styles, but he is also comfortable with both Italian and Mexican cuisine.
Chef Michael has participated in the Farm2Chef competition and he is looking forward to participating in many more in the future.