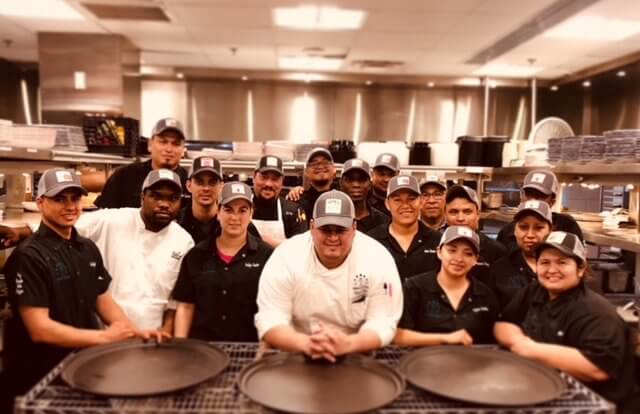 Executive Chef Richard Torres from Farmers & Distillers
Chef Torres was born in Juana Diaz, Puerto Rico, where cooking for him, became a family tradition.
Chef Torres's dad was a chef and restaurant owner, his mother's father also owned a restaurant and his mother's sister had a restaurant where Richard started working at the age of 13. He once dreamed of being a musician but cooking always called him back until he realized that it was his true passion. Richards's first job was in his Aunt's restaurant working in the front of the house as a server and bartender, but curiosity brought him to the kitchen. The servers had to keep their hair short and neat so Richard had a plan and grew his hair out. As a result, his Aunt moved him to the kitchen after unsuccessful attempts to get him to cut it. Everything he learned made him realize this is where he has and will always want to be.
When he realized he wanted to pursue a career as a Chef, Puerto Rico started to go into an economic crisis, so he moved to Miami and enrolled in Johnson & Wales Culinary University. He started working right away as a student at Tonino Lamborghini with Chef Douglas Rodriguez and Porcao Dil Pappa. However, the real training started when he worked at the Versace Mansion with Aaron Janus and Chef Jeff O'neil, two of Miami's iconic chefs.
Richard's big break was when he left with Chef Jeff O'neil and worked under him at Porcao Farm to Table as the Chef de Cuisine. After building up this concept for a year the restaurant never opened but he received a call from Chef Alberto Cabrera at Bread and Butter in Miami. He became the Executive Chef and opened a second location called Little Bread. It was a chef driven Cuban sandwich shop. He went on to open up The Continental Miami for Stephen Starr, owner of Starr Restaurant Group. And through working for Stephen, he met Mike V, owner of Founding Farmers.
In 2016. Chef Torres and his wife found out they were expecting twins. His wife's family lives in Pennsylvania so they felt it would be a smart decision to move closer to them. He had already been in touch with Mike V, so he accepted a job offer and everything just fell into place. Chef Torres has not looked back since. He really likes how settled the area restaurants are, unlike in Miami, where restaurants open and close quickly all the time. He feels Washington DC area has more to offer in his career.
Chef Torres's number one principle is to work for the best, if you want to be the best. He prefers experiences and skills over financial prosperity. This inspiration is rooted in his relationship with his father. Chef Torres's father was a chef with no culinary education but built a career by doing what he loved and following his passion.
Chef Torres spends all his free time with his wife, son, and twin daughters. His wife also works for the Founding Farmers Group as a Food and Safety Culture Systems Manager. It's certainly a family affair for him.
And yes, he does cook at home! His favorite thing to do is bake bread and cook old soul traditional foods from Puerto Rico. Chef Richard feels the best part about being a chef is that he gets to create memories for his guests.
"People celebrate all kinds of events at Farmers & Distillers and we are given a chance to impact positively on their lives."
At the end of the day it's all about family and tradition which makes him the perfect chef for Farmers & Distillers because here, tradition and family come first.