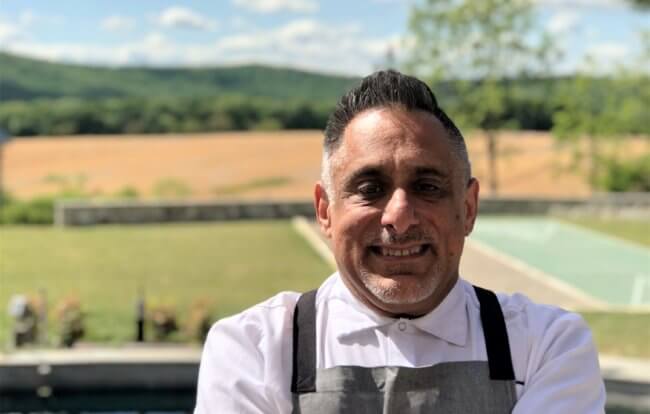 A Blue-Collar Chic Chef makes his debut at the reimagined Comus Inn
by Cassidy Williams
Chef Sammy D, a native New Yorker and world-traveling chef, makes his mid-Atlantic debut in Dickerson, Maryland. You're probably thinking…"where???" Well, Dickerson is home to Sugarloaf Mountain and The Comus Inn. More specifically, the reimagined Comus Inn now.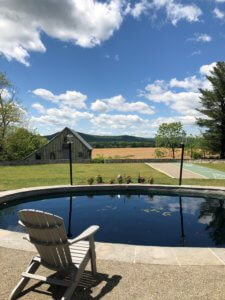 The Comus Inn, under Doug Yurechko's ownership, is a completely new experience that fits seamlessly into the 140-year-old property. The atmosphere, activities, and food make it a destination for the whole family.  Doug had a vision for this "family-entertainment venue" after visiting a converted community beer garden in Pennsylvania almost 8 years ago. Without any industry experience, he saw a business model available that he could bring back home.
Doug was in real estate construction and development for over 20 years in the DC market. After his dad passed away shortly after retirement, he realized he didn't want to wait to try everything he couldn't do while working. After several years of looking and not finding the right property, Doug knew The Comus Inn was perfect during his first visit. He closed on the contract in the fall of 2019 with the plan of opening in the spring of 2020. Little by little, he checked off his list in the middle of COVID, and opened in October of 2020. It was not an easy start since it was a brand new concept that had not been tested in this market, but Doug was confident his "choose your own adventure" concept would thrive, especially after people had been cooped up for so long.
The property boasts a multitude of activities and experiences that encourages you to roam about the 5.26 acres. Hang out on the expansive lawn with games like 
shuffleboard, corn hole, jenga, and more. Drive by to pickup fresh pastries or homemade ice cream at their take-out window (all made by their on-site pastry chef, Brandi). Dine upstairs for brunch with plated-menu service and breathtaking views. Bring a blanket or chairs to enjoy a movie under the stars on their expansive lot. Listen to live music from local bands as you sip craft beers on their patio. There are even special events planned like yoga, an outdoor dinner theater, and seasonal festivals. They're kicking off the summer season with a Memorial Day weekend festival. Shuttles will run back and forth from designated parking venues since the property will be filled with live bands, food tents, beer tents, games, and more.
Both Doug and Sammy are excited to bring a new family-first experience to our market. Doug's ultimate goal is for people to come and just have a good time. His dad's slogan instead of saying goodbye was the root for all of it:
"Have Some Fun Today"
The family-forward concept is not just for guests, but it's how Doug does business. Doug and Sammy met through Doug's brother as he was formulating his business plan. Sammy was introduced as a consultant, working in Amsterdam at the time, but quickly realized he wanted to be a more permanent part of the team. He moved his wife and three kids (6, 8, and 14) from Amsterdam, to Las Vegas, and settled in Frederick, Maryland.
Chef Sammy has traveled the world throughout his tenure as chef. A Brooklyn-born and raised Sicilian, he knew as a teenager this industry was where his passion lied. He grew up always around food, cooking with his great-grandmother in the basement and took Home Economics classes to simply try and meet girls. However, his sophomore year of high school, he had a turning point. Mrs. Green, his Home Ec teacher, saw a spark and talent in him and took a day off from school to take him on a tour of the CIA.
In due time, that visit surely paid off. In 1994, he opened First in the East Village and quickly became known as "the chef of the chefs." First was open until around 3 am and became a gat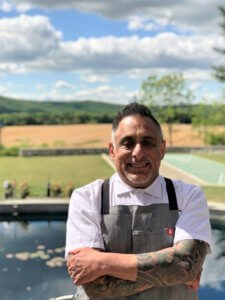 hering spot for other nearby chefs to dine at after finishing service. He later opened Merge and District with the same business partner at First. This gave him his first real sense as a business owner and became a turning point in his career.
In 1998, Chef Sammy was contacted to help open the Bellagio in Las Vegas. From there his career has taken him all over the world. He's traveled with James Packer in Melbourne and Perth; worked with the Pure Canadian Gaming in Canada; cooked for the Royal Family in Thailand; and lead the Kimpton Hotel in Amsterdam. Looking back on it, "I loved the opportunity to expand my horizons," says Chef Sammy. Without all his traveling, it would not have led him to meet his wife on a layover in Tokyo (who later crowned him the name "Chef Sammy D").
Although his career has provided him with many different cultural exposures, Chef Sammy D always comes back to his food roots – "blue collar chic." He takes well-known food, like a BLT, and elevates it – adding in 1 lb. of bacon, mixed lettuce, local beefsteak tomato, avocado, a delicious chipotle mayo, all served on a 13 inch toasted sourdough. It's called "Chef Sammy D's XXXL-BLTA" on the Comus Inn menu if you want to try it! At whatever level of cooking, "I look to use good quality ingredients, techniques, and methods."
At Comus, that's exactly what Chef Sammy serves up. He loves "flirting with local ingredients" and is excited for the local season to ramp up soon. He notices the real sense of pride us Marylanders have with our food, and is grateful to have two locals as his sous chefs. As a leader of a new venue, he leads by example and likes being involved to keep the energy of the kitchen high.
"I realize that I'm creating something special here," says Chef Sammy D. "Doug has a damn-good vision and I'm glad to be a part of it."
The Comus Inn
23900 Old Hundred Road
Dickerson, MD 20842
(301) 349-2015
Hours:
Wednesday- Thursday from 8- 11 am, and 4-9 pm
Saturday – Sunday from 8 am – 9 pm
Operations:
Indoor Brunch Service: Saturday + Sunday from 10 am – 2 pm, reservations highly recommended
Breakfast: order at Brandi's Bake Shop Window
Ice Cream: order at the outdoor window
Outdoor: first come, first serve seating; self-service