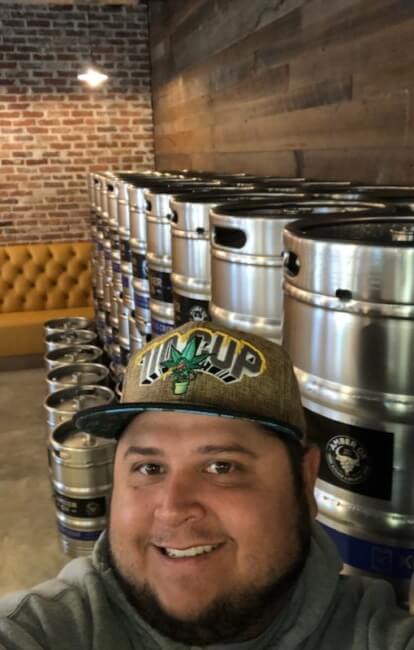 Chef Troy Buckley, Executive Chef at Amber Ox Public House
Chef Troy Buckley is the Executive Chef of Amber Ox Public House located in Williamsburg, VA. Chef Troy's family is originally from Louisiana but he moved to the Newport News, VA area at a young age. He never wanted to be a Chef, he wanted to follow his first love and be a baseball player. It was his grandmother that eventually helped develop his love for cooking. She took young Troy to seafood markets in Louisiana and taught him how to throw a good fish fry. As he explored the world of cooking, he found inspiration in many people and in many places he visited and soon he found himself going to school and starting a career as a chef.
Chef Troy attended Le Cordon Blue in Pittsburg, PA and trained in the Classical French Technique. He has been working in the industry for over 16 years, establishing tenure as a chef at the Williamsburg Winery, Circa 1918 Restaurant, and Silt in Williamsburg, VA prior to his current position at the Amber Ox Public House. He loves the chef life and the controlled chaos it comes with. Not knowing what may happen during each lunch or dinner service is part of the fun. The most rewarding part for Chef Troy about being a chef is the feeling of making people happy and seeing the gratitude people have for good food. The best compliment he could ever receive is for someone to say that the food and service they received at his restaurant is the best they have ever had. To ensure success, he aims to make sure his employees leave every day knowing more than when they come in so he encourages them to research and follow chefs that are leaders of their segment. He knows that the knowledge his employees attains will make them better and will make their service better.
Amber Ox Public House has a unique menu, thanks to Chef Troy. It has dishes that are unique because Chef Troy strives to take a different approach than the norm with regards to dishes, flavors, combinations, techniques and presentation. From the menu, he recommends Shrimp & Grits. His style of cooking hails back to his studies in Classical French but he prides himself on adding a modern approach to his technique. It's no surprise that Chef Troy helped the restaurant be named Best New Restaurant by Coastal Virginia Magazine and he's taken home the Winner of the People's choice and Best Taste at the Jamestown Chowder Festival.
If he's not working out his culinary taste buds, he likes to spend his time with his family and have his hand at racing at the local racetrack. He has one daughter that he likes to dote on and he loves being outside on the smoker watching his daughter play. When he has time in between his two loves of family and food, you can find him volunteering which includes doing guest chef appearances at different events and consulting other restaurants in the area on how to build theme driven dinners and menus.
Chef Troy only has one final comment and that is, "Come try us out and support your local restaurants, breweries, and farmers."