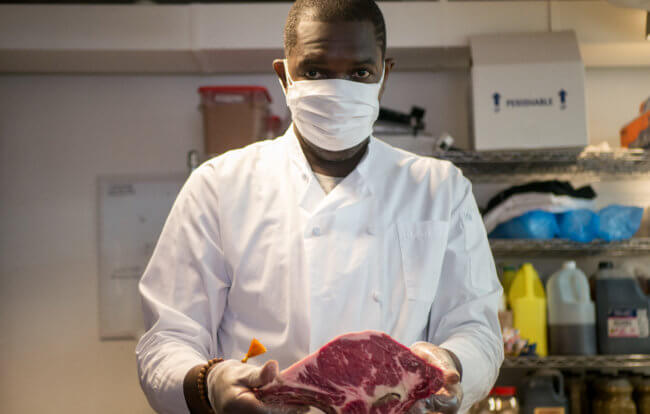 Chef Wendell remains faithful of his new shop amid many setbacks
Prior to the COVID pandemic that turned D.C. into a ghost town, Wendell Allsbrook opened his dream butcher shop – Georgetown Butcher. Even with more than 15 years of experience, nothing could prepare him or his new business for the difficult uncertainty in the first few weeks to the overwhelming international support in the months that followed.
Wendell Allsbrook grew up in the U Street neighborhood of Washington, DC. In high school, he worked small jobs and wound up at Balducci's, formerly Sutton Place Gourmet, where he pins the start of his food career. Over the next few years, his fascination with food grew at an exponential rate. In 2005, Allsbrook began working at The Organic Butcher in McLean, Virginia. Throughout the next 15 years, he became the face of the business and refined his skills in multiple domains. He was the butcher, seafood monger, recipe developer for at-home cooking instructions for customers, and caterer for events. Not only did he develop an expertise in butchery, but he also created a cult-like following in the area.
In late December 2019, Wendell signed a lease for a Georgetown storefront on Grace Street. He had a strong financial system in place that would support his new business for the first 15 months. As a debut to the store, Allsbrook interviewed with Washingtonian magazine and officially released Ma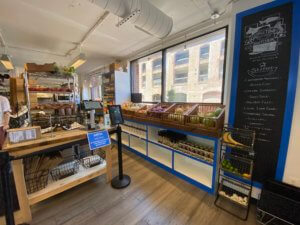 rch 9, 2020 as opening day.
On Wednesday, March 11, the WHO declared COVID-19 a global pandemic and DC Mayor Muriel Bowser declared a public health emergency for the city. Wendell's vision became a sideways reality, requiring him to develop a new business plan quickly; "this wasn't a 'Wendell problem', this was a world problem" he says. He created curbside pickup and contact-less shopping for his recently launched and highly anticipated shop. An interview in late-March with CNN highlighted his early challenges and necessary changes he had to make to keep his shop running.
Over the next several weeks, Chef Wendell and his two other employees had to "work, work, work" to meet demands. Each holiday and celebration brought higher sales, but further challenges. Mother's Day, Father's Day, and Memorial Day Weekend increased business but would coincide with increases in coronavirus infections. Fortunately, online sales continued to grow, and they even acquired a delivery van to help with sales. The delivery van travels as far as 20 miles from the shop.
At the end of May, a new set of challenges came to DC – the George Floyd protests. As stores along M Street began boarding up, customers wondered if Georgetown Butcher would do the same. Wendell said, "I wasn't afraid to leave the store with faith it will be there when I got back." His prediction was correct, since looters stayed along the main drag and away from where the store is located.
Despite the ongoing unrest in the city, a new wave of business came after a Fox News highlight. The interview gained international attention, prompting hundreds of letters and donations to be sent in to Wendell from across the country. Additionally, the national campaign to support minority business owners sent an outpouring of new customers.
Through all of the trials and tribulations, "I had to keep having faith," says Allsbrook, "We had to grow up fast as a company." His mission never changed, he kept pushing out safe, high-quality products for his customers.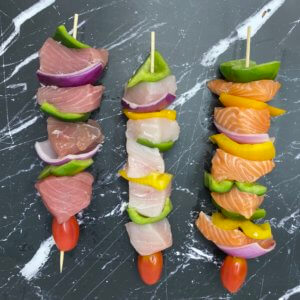 When opening the shop amid the pandemic, Wendell was challenged with receiving the freshest products from his vendors. "I had to work directly with distributors who I knew had the best products," says Wendell. He called Ann, his Keany salesperson at Organic Butcher in McLean, for help getting started with offering produce in his new store. Although he was uncertain about selling produce in a meat-centric shop, it has been rewarding for him to see how much he has been able to sell. "I know that not everyone wants to have a steak every night for dinner," so selling local fruits and vegetables has expanded his customer base by giving them more buying options.
From the time a customer walks in until they finish shopping, Wendell and his team make sure each one feels welcome, answering questions and making sure clients receive everything they might want. "We don't have a 'no' attitude. If we don't have something, we ask for their contact information and follow up when we will have it in the store or even deliver it if they want," explains Chef Wendell.
Although his team may be small, Wendell lets each employee manage themselves. Some of his colleagues have been working with Wendell for the past five to ten years. There is already a natural chemistry among the team and it emulates through customer experience. One customer said, "You are the best thing to ever happen to Georgetown."
 One customer said, "You are the best thing to ever happen to Georgetown."
On a recent night out to dinner at The Wharf, Chef Wendell signed two leases to open two additional Georgetown Butcher concepts in D.C. He is hopeful for the future and wants to build a coalition of other local small businesses. "I want people to eat local, shop local, and support local stores because a lot of them need help right now."
We are thankful to have customers like Chef Wendell, and so many others, who have worked incredibly hard to bind their community through the love of food.
Photos courtesy of Georgetown Butcher.
Georgetown Butcher
3210 Grace St. NW, Washington, DC 20007
202-621-9746