Chef Joe of Conrad's Seafood Restaurant - Perry Hall and Abingdon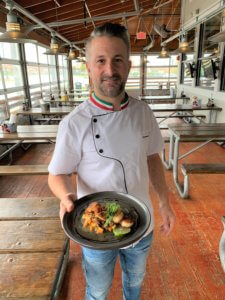 It's hard to believe Chef Joseph Lancelotta wasn't always in the kitchen creating delicious seafood dishes, rather in an office with an accounting degree. Luckily for all of us, his accounting "career" didn't last long. Now, you can find Chef Joe splitting his time between his two Conrad's Seafood Restaurants in Perry Hall and Abingdon.
Chef Joe always knew he loved to cook and that good food made him happy (me too, Joe). In fact, his first few jobs were working at a pizzeria and deli. Although he enjoyed being in the restaurant industry, he felt compelled to get a respectable degree in a steady field – accounting. After 6 months though, he was dying to get back in the kitchen.
His Italian family had a significant impact on his cooking style. He attended culinary school at Baltimore International College (now Stratford University), ironically located in the Little Italy neighborhood. He moved in with his 88 year old Grandma to assist her around the house and keep her company. After graduating, he felt lucky to be given a job at Boccaccio, where everyone on the line had immigrated Italy. He was inspired to work with Chef Giovanni, who first brought traditional Italian flavors to Baltimore. This was the moment, Chef Joe realized he was in the right industry, "I jumped from something I liked to do to hey maybe I can make a career out of this." His family supported his career choice, but challenged his schedule and demanding hours.
He stayed at Boccaccio for four years until his mother was diagnosed with pancreatic cancer. He wanted to be with his family during this time with a lighter schedule, so he switched to Country Club of Maryland. Chef Joe worked the brunch and lunch shifts in order to be at home in the afternoon with his family. After 11 months, she passed away from her illness. He was grateful to be able to have this position and still be with his mom.
Shortly after, his brother had been working at a family-owned liquor store in Perry Hall; the owners wanted to sell the business after 35 years. Joe and his brother, age 26 and 23 respectively, decided to invest and bought the business together. It was a tough seven years, but they each learned a lot. This was Joe's first experience with ownership, and when his accounting degree actually came in handy. In this industry, the toughest part for him was seeing his money sitting in the inventory. It was an expensive inventory that kept needing replenishment. He realized he wasn't utilizing his skills or passion, "you can't do the thing to set you apart in liquor that you can at a restaurant."
For about 4-5 months, Chef Joe took some time off to figure out what he wanted to do for a career. During that time, he married Denise, who he met at culinary school and was currently a pastry chef. His grandmother who he had been living with for the past 10 years, passed away at the age of 98. His true passion quickly kicked back in. His cousin owned a market on Joppa Road and was neighbors and friends with the Conrad family.
Anthony and Andrea Conrad owned Conrad's Crabs and Seafood Market, but were ready to buy a restaurant and expand their business model. Their seafood market was successful after four years of opening, but they didn't provide dine-in options. Joe's cousin introduced them, although Joe was weary if this is what he wanted. Tony and Andrea expressed their vision to Joe and he couldn't pass it up—they were giving him another opportunity to be a business owner when they opened the restaurant.
Before the restaurant came to fruition, Joe wanted to work at their already established seafood market to scope out the dynamic between him and the family. Six months turned into three years and the Perry Hall location opened on January 29, 2014. He was nervous for the first year of operation because it had been about 10 years since he worked in a full-service kitchen; "I didn't know if I still had 'it.'" Fortunately, he hired a great sous chef who had come from that same level of job experience. He was able to guide his mind back into the process, creativity, and lifestyle of the industry.
Chef Joe took criticism very hard the first year, but his sous chef had the perfect way to boost his confidence. His registered the duo for the Mason-Dixon Master Chef Tournament. Chef Joe had never competed before, but the two won out of 16 competing chefs. After that experience, he felt the confidence he needed to run the restaurant. After the competition, he saw the business growing and interacted more with customers. He stopped letting the criticism affect him personally, and instead addressed it and changed what his patrons were suggesting. He enjoyed working the business—being in charge of menus, ordering, interacting with staff, creating specials.
On April 23, 2019 the Abingdon location opened. There was a lot of hype around their second location and customers bombarded them for the first few weeks. It was challenging for Joe since he was still training his new team, while the restaurant was in its opening phases. When they first opened critics claimed "the chef at Perry Hall is better," unbeknownst to them, both locations housed Chef Joe. Since April, they are still tweaking service and food, but have high hopes for new customers during the holiday season (they are located in a bustling shopping center).
If you plan a visit to either location, Lancelotta recommends their two winter appetizers – Scallop Special and Ramen Bowl. Every menu has a scallop dish featuring their fresh catch from Ocean City, Maryland. This dish in particular, embodies many fall elements; seared sea scallops sit atop a sweet potato and squash hash, that's tossed with blue cheese and house-made candied walnuts, and finished with an apple cider gastrique. The Ramen Bowl has braised octopus, house-made porchetta, udon noodles, fennel slaw, sesame seeds, a spritz of lime, and topped with soft-poached eggs.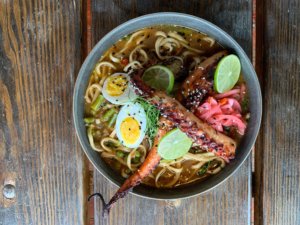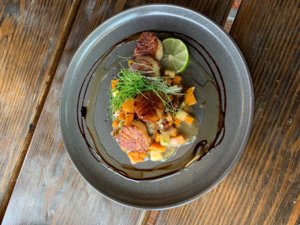 This American Seafood Bistro touches around a lot of different styles – Californian, Cajun, and of course Baltimorean. As Chef Joe puts it, it's "a seafood restaurant with crabs." The Conrad group was founded on local, with Tony out on the water supplying the crabs for the market. They still utilize local watermen and local suppliers to fill their menu offerings. Seasonal offerings are very important to their business model and changing the menu every six months. Oftentimes, a customer will request something from an older menu, and their team will always make it. This keeps his customers happy and coming back to see what's new.
He's inspired by art, fashion, and of course, his Italian background. His second location brought another crew into his life and loves the new ideas his chefs have brought to the table (literally). It's important to have relationships with vendors, because it's just as important as the products. One of the first lessons he learned at Boccaccio, is "great quality ingredients makes quality food" and he's stuck with that influence throughout his two locations opening. "It's not always about price, but for me it's always about quality."
Chef Joe's style is different from others; even though he's balancing two locations, he is always on the line cooking with his team. "My heart is cooking, so that's where I will be," says Lancelotta. The Conrad's have always been great communicators, and Chef Joe has kept that as well. He views the restaurant like coaching a sports team, there can't be a wall up between the offense and defense or else nothing will get fixed. He trains the front of the house staff daily for all of the specials and encourages the back of the house to have their own spin on a dish. He says, "If it looks great, and has all of the components, I'm happy with it." In fact, Chef Joe says the best compliment he can receive is from another chef on his team. He loves the comradery of his kitchen; it's like a family to him.
The most important aspect of Joe's job is being present and being hands-on. He splits his time between the two locations by being at each every other day. Chef Joe says "the businesses were built on my cooking, so I need to still be a part of it and keep my hands in the food." This split system allows him to address any issues immediately and not two or three weeks later.
At home, Joe loves cooking at home with his wife. He tends to use the grill since there's no dishes involved; a luxury of a chef is no dishes. He loves the idea of competition, and would love the opportunity to be on Chopped. For now, he'll stick with his marathons since it drives him forward with menu ideas.
Perry Hall & Abingdon
Sun-Thurs:  11:30 am – 10 pm | Fri-Sat:  11:30 am – 11 pm