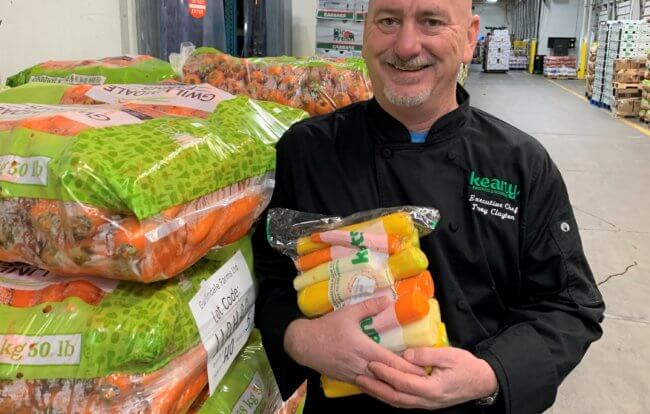 Executive Chef Troy Clayton: Keany Kuts' Newest Member
From an early age, Troy was a go-getter. As a military brat, traveling coast to coast, he learned how to be resourceful, independent, and skillful. These traits are what have carried him throughout his adventures in the foodservice industry, and what ultimately led him to Keany Produce.
Troy Clayton is one of the newest members of Keany's senior management team, with the role of Executive Chef. His positive impact on the company and its precut department stems from his detail-oriented methodologies, passion for quality, and efficiencies in a kitchen.
Troy considers his hometown to be a list: Florida, North Carolina, Texas, Tennessee, California, Virginia, Italy, France, The UK, and the Philippines. His father was a doctor for the Navy and was often asked to move around for his services; moving approximately every 2 years. Troy emancipated at age 17 and so began his independency and culinary journey.
After his emancipation, Troy returned to San Roman, California and began working as a dishwasher while still attending high school. After a two-day stint as a dishwasher, the General Manager moved him to the floor as a busboy. However, Troy yearned to be in the kitchen and his first mentor, Chef Mark Stanley agreed. During evenings and weekends, Troy voluntarily worked alongside various chefs, prep cooks, and line cooks to learn from their artistry. Six months later, he found himself with the opportunity to replace a line cook and Chef Stanley knew he was ready. Troy stayed at the California Bar & Grill for two years before moving to his next venture – Italy.
Troy's father had the opportunity to be the Commanding Officer at the naval hospital in Naples, Italy, which he originally turned down until Troy agreed to join him. He left California to be with his dad in Tennessee for six months before moving to Italy. There, he worked as a line cook at a local grill. When they arrived in Naples, Troy befriended a group from the American Embassy. Together, they signed up for a weeklong cooking class in Umbria (central Italy).
During that week, Troy met Master Chef Donaldo Soviero, which ultimately led him to a yearlong apprenticeship under Chef Soviero. While there, he noticed an ad in the local Italian paper for a cooking school in Paris, France. He applied and was one of eight foreign students accepted to the program, although he was the only who did not speak French. He quickly received the title of "The Italian American." He received formal training in French cuisine through the program and at renowned Parisian kitchens. From 1989 until 1993, Chef Clayton managed 190 Queen's Gate Restaurant, Bistro 190, and dell'Ugo Restaurant, Bistro, and Café Bar in the United Kingdom. Queen's Gate was the home of The Restauranteurs Association of Great Britain, serving the likes of Marco Pierre White, Gordon Ramsay, and The Roux Brother, among many other London restauranteurs.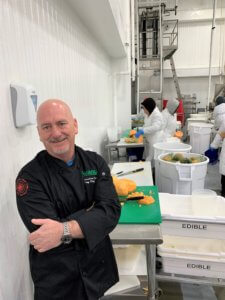 In 1993, Troy returned to the United States working for Jean Louis Palladin in both Atlanta, Georgia and Washington, DC. With ambitions to run his own kitchen, Troy took over Market Street Bar & Grill at the Hyatt Regency Reston. During this time, the establishment gained a high reputation and earned a two-star "Top 100 Restaurant" spot in Washingtonian magazine.
In 1995, Troy partnered with Fred McLaughlin to create a home-meal replacement concept called Steak Around. In a little over a year, they raised four million dollars and opened seven stores in the metropolitan-DC area. Despite their success, Troy still missed the kitchen, which prompted him to buy Geranio Restaurant, a family-owned landmark in Old Town Alexandria. He remained there for the next 20 years, doubling volume and maintaining the familial values of the original concept.
In 2008, he became a restaurant consultant with Joe Spinelli, and Restaurant Consultants, Inc. Together, they have advised on a multitude of concepts from initial idea to opening to success, and even problem-solving solutions for already established businesses. Their scope of work varies by project, but includes brand development, menu development, financial forecasting, site selection, and many more operational oversights. They still complete consultation projects today.
From 2013-2019, while still managing Geranio's and consulting, Troy developed The Landing Restaurant and Waterfront Bar concept, opening two locations as the Chef-Owner at Coles Point Marina and Occoquan Harbor Marina. In 2018 and 2019, Chef Clayton decided to get out of restaurant operations, and progressively sole all three locations as turnkey restaurants or real estate investments.
Currently, Chef Troy manages Keany's in-house precut department joining our team at the end of the 2019 summer. Keany Kuts is a nearly 24-hour, 7-days-a-week operation with over 100-trained artisans preparing the widest variety of fresh produce in the region. Our team can create anything from diced, florets, kabobs, vegetable or fruit blends, spirals, as well as custom creations and designs. Keany Kuts saves chefs time, labor, and money, allowing kitchen staffs to focus on recipe creation rather than time-intensive cutting board work.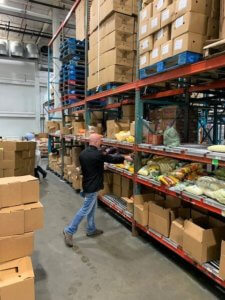 As an experienced chef, Clayton values what the Keany Kuts brand can do for foodservice operators; "If you can do it in your kitchen, I can do it in my kitchen with the stress, worry, and waste off of you. Just order by 6 PM and my kitchen cuts it, and delivers it at your backdoor the next morning."
As a 30-year Keany customer, Troy is proud of the Keany Family's reputation for quality and service. Within the precut facility, there is approximately 500 years of cumulative experience, so his focus has been on quality precision, making the team more successful and efficient. "I need to be a coach" he says, "there's no way in my lifetime that I will be as skilled at peeling a melon as my team with 20-30 years of experience at Keany. They're phenomenally skilled at what they do."
"I need to be a coach" he says, "there's no way in my lifetime that I will be as skilled at peeling a melon as my team with 20-30 years of experience at Keany. They're phenomenally skilled at what they do."
The number of customers, the variety of products, and the volume of orders is a remarkable undertaking for a 12-hour turnaround. When asked about his biggest challenge, Troy said "it's remaining nimble and responsive in the midst of huge volume." He acquired his detail-oriented skills from Palladin, who had a profound depth of knowledge, precision and passion for food.
The future of the Keany Kuts program is exponential. The cost of labor, particularly in the DC-market, will continue to rise and hurt the bottom line for restauranteurs. By utilizing Keany's precut, operators can save on labor and still achieve the same quality, if not better. "Workers aren't always guaranteed to turn up on time every day, but Keany will always be here," says Chef. Over the next five years, Troy can foresee a second operation opening in our already established Richmond warehouse. Our products will grow according to demand and the capacity of creativity will continue to expand with every opportunity.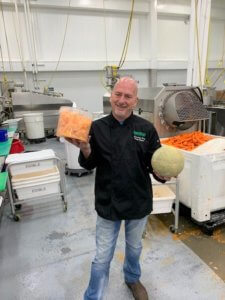 QUICK FACTS:
Favorite Keany Kuts products: Colorful Cauliflower Rice & Baby Tri-Color Carrots
Family: 2 sons
Favorite Food: cheesecake

As a child, Troy loved cheesecake and grandmas said "well I'm not going to make it for you, if you want cheesecake, you need to learn how to make it"

Languages: English, Spanish, some French, Italian, and Tagalog