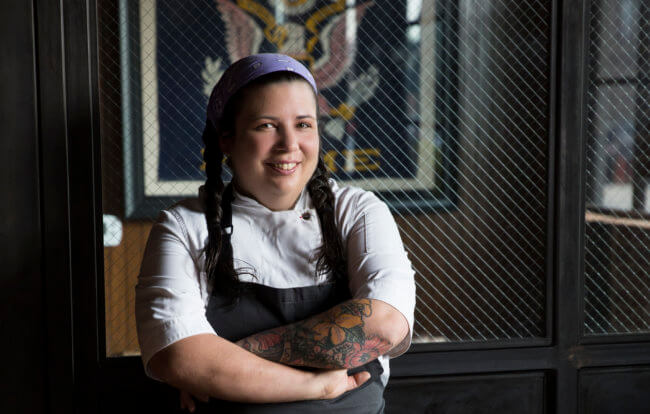 The STARR of St. Anselm: Marjorie Meek-Bradley
by: Cassidy Williams
Located just around the corner from Union Market, sits St. Anselm – Starr Restaurant Group's newest addition to the DC restaurant scene. Recently awarded 3 stars by Tom Sietsema of The Washington Post, this former warehouse space is due for a visit. Cozy up in their warmly-lit, union-eclectic dining room and enjoy Executive Chef Marjorie Meek-Bradley prepare her signature dishes in their open kitchen.
While Marjorie Meek-Bradley has certainly made herself a reputable name in Washington (i.e. Top Chef, Smoked and Stacked, Zaytinya, and the late Ripple), she grew up in Ukiah, California. Her parents started a soup kitchen the year she was born, so she's been frequenting a kitchen since before she could walk. She started cooking in restaurants at 17 years old at an organic brewery, ­­­­Ukiah Brewing Company, which is still open today. She was inspired by their cook-from-scratch kitchen, which was not often seen in restaurants in the early 2000s. Ukiah is where she was first introduced to using small-batch, locally-sourced produce and meat products; a method she continues to incorporate in her menus.
Meek-Bradley later moved to Philadelphia to complete culinary school. She temporarily moved back to California, before making her final move to the east coast. She worked at Bouchon in Yountville, Eleven Madison Park in New York City, then as a private chef for a family in Vermont for a year. As she wanted to get back into the restaurant industry, she saw a potential food hub in our nation's capital. First, she started by working for another famous DC chef—José Andres—at Zaytinya. Following this, she worked at Bibiana, Graffiato, Ripple, Smoked and Stacked before joining STARR Restaurant Group in November 2017.
STARR Restaurant Group, led by Stephen Starr, has a reputation for outstanding food establishments on the east coast. This includes Le CouCou in New York, Parc in Philadelphia, and Le Diplomate in DC—all regarded as institutions in the industry. The original St. Anselm is in Brooklyn, at a smaller scale than its sister dining destination on 5th Street NE. Working with STARR, Meek-Bradley says "they have great infrastructure" and "they give you the tools that you need…and a lot of support."
Marjorie loves how much DC is expanding, like Union Market – where St. Anselm is located. Since DC's restaurant scene is also expanding and is becoming more frequent on the dining destination maps, she sees a growing pool of talent within the industry. Including managers, chefs, sommeliers, and line cooks. She personally trains everyone in the kitchen, whether they are rookie or veteran cooks. Her team also includes Executive Sous Chef Sam Molavi, who has partnered with Marjorie in the past, and Sous Chef Lindsey Flowers.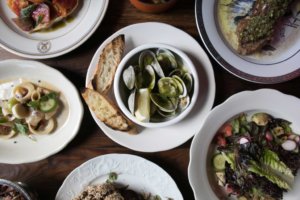 Keeping in mind her early cooking days at Ukiah, Chef Marjorie creates a menu focused around the seasons with sourcing from farms she loves and trusts. Her seasonal menu allows for her to source locally throughout the year with various products from Keany. There are a few staples she will keep on the menu—including a rib eye from 44 Farms, and grilled baby carrots, in addition to specials.
Chef Marjorie says "there are three things that are most important to me—keep the menu interesting and consistent, source the best ingredients, and have a good team."
Her appearance and success on Bravo's Top Chef helped to establish her national recognition. The local newspaper in her hometown of Ukiah was thrilled to cover the story—making her a local celebrity each time she visits home. Chef Marjorie's favorite accolade was receiving three stars from Tom Sietsema of The Washington Post before St. Anselm even opened. While at Ripple, she was nominated for James Beard Foundation's Rising Star award. Eater DC named Marjorie as the Chef of the Year for 2018. Her fierce competitive nature has allowed her to rise to the top. One competition she would love to be a part of…The Amazing Race. And who other for her partner of choice, but her Sous Chef, Sam.
Chef Marjorie loves to cook at home and host big dinners for friends. She also loves spending time with her Chihuahua, Lilly (follow her on Instagram @souscheflilly). Marjorie's favorite restaurants include Mandu, Le Diplomate, and newly-opened Bombay Street Food. Despite a very busy schedule, she likes to volunteer with DC Central Kitchen, and events like Chefs for Equality and Sips & Suppers. As well as raising money for scholarships for women in the culinary industry. Last year, she also worked with lobbying groups on the hill to get the Farm Bill passed.
If this hasn't convinced you to venture to St. Anselm, Chef Marjorie recommends:
Rib Eye Steak
Whole Mackerel
Grilled Baby Carrots
Iceberg and Blue
1250 5th St. NE
Washington, DC 20002
Hours:
Mon-Wed: Dinner 5 pm-10 pm
Thu-Fri: Dinner 5 pm-11 pm
Sat: Brunch 10 am-3 pm, Dinner 5 pm-11 pm
Sun: Brunch 10 am-3 pm, Dinner 5 pm-10 pm