Colorful Caulilini: Mann's Newest Produce Innovation
Mann Packing, recently acquired by Del Monte Fresh Produce, has introduced another succulent product to the produce industry. The Caulilini™ SweetStem™ Cauliflower, is a cauliflower variety with blonde florets and a bright green stem. Similar in structure to its produce sibling, Broccolini®, Caulilini™ offers a sweet, slightly nutty flavor.
Mann has been cultivating this highly-sought out crop for almost two years in their fields. They've been perfecting the size, shape, and growth period of the Caulilini™ to be what it i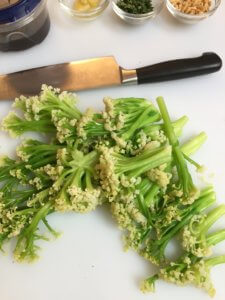 s now trademarked as. The results simply speak for themselves.
Caulilini™ is only available to foodservice customers, making it an extraordinary culinary opportunity for chefs around the country to get creative! Try them grilled, sautéed, roasted, or raw; the stems turn bright green when cooked, which can give a major color boost to a dish. Blanching them will give use to a lot of unique dishes. They are great in both Asian sauces and tempura batters, as well as Mediterranean flavors like z'houg.
Unique to most field-grown crops, Caulilini™ is entirely edible from flower to stem, resulting in a zero waste product. They come pre-washed and ready-to-eat, making prep time short and effortless. Attributable to Mann's location in California, Caulilini™ is available year-round with no additives, preservatives, and never frozen.
At Keany, we love partnering with farms across America who work industriously to cultivate innovative produce items, like Mann has done countless times. Their products are 100% traceable, as they monitor the entire planting, harvesting, packing, and shipping process for over 40 different fresh veggie products. They embody the farm to table movement we, at Keany, are so passionate about.
Contact your account executive to order the Caulilini™ SweetStem™ Cauliflower:
Pack size: 3 x 2 lb. bags
Code: 01654
To read more, visit: https://www.veggiesmadeeasy.com/ or read their blog for recipe and school lunch ideas: https://www.mannthatseasy.com/