Spring Valley Farm & Orchard
Spring Valley Farm contains over 200 acres of diversified orchards and over 150 acres of vegetables varieties. Owners Eli and Misty Cook are proud practitioners of Integrated Pest Management, using beneficial insects and no residual sprays to protect their produce.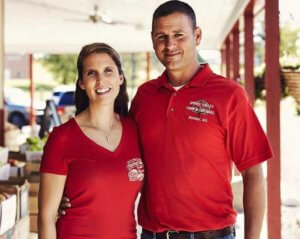 They also specialize in winter production by using the Earth's solar heat to grow root crops like beets and carrots. This technique uses non-heated tunnels to protect the crops from wind and snow, while utilizing the winter sun to provide enough warmth in the day to sustain growth. Not only does this technique help provide fresh, local produce year round, it is also extremely energy-efficient. In addition, Spring Valley has 13 heated greenhouses to provide green harvests year round.