Large Purple Ninja Radish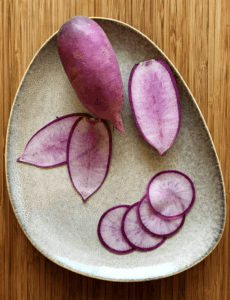 Babé Farms, located in Santa Maria, California, is now supplying Large Purple Ninja Radishes (17699) to Keany Produce and Gourmet. Babé Farms is family owned and operated by Judy Lundberg-Wafer and her son, Jeff Lundberg. Many employees have been with the company for over 20 years. Babé Farms is known as the pioneers for specialty vegetables, bringing both "baby size" vegetables and "mesclun" lettuces to the marketplace before anyone else. Over time, fine restaurants began serving the spring mix greens and consumers demanded retailers to sell it. Today, Babé Farms harvests over 70 different varieties of gourmet vegetables; they are often the testing ground for many new varieties of leafy greens and specialty vegetables.

They have recently introduced Large Purple Ninja Radishes to the marketplace, and chefs cannot get enough of this colorful beauty to add to their dishes. This root vegetable has a torpedo shape and beautiful purple color. It's the perfect garnish, julienne for ceviche, pickled, or thinly sliced in salad or open-faced sandwich. The vibrant colors and spicy kick of flavor are sparking buzz across Instagram with various food accounts highlighting the dynamic uses of this specialty veggie.

Be sure to check out Babé Farms on Instagram, @babe_farms for all their trendsetting crops and "eat the rainbow" photos.