Spring Lookahead – April & May Produce Guide
Written by: Cassidy Williams
Anyone else ready to put away those bulky sweaters, open the windows, or sip cocktails on a patio? We sure are! Spring is right around the corner, and the season is a favorite among us produce-lovers. Here's what you can expect this spring from your favorite produce supplier:
Spring Menu Items
Rhubarb

Washington, some local
10 LBs
Available now

Ramps

Availability dependent on weather
1 LB

Artichokes

California
24 CT, 18 CT, baby
Available now

Asparagus

Mexico
Standard, large, jumbo; white
Available now

Fiddlehead Ferns
Apricots

Chile
Double-layer
Early May

Greens (Kale, Collard, Mustard)

Available now
Georgia, Maryland (late April)
Assorted pack sizes

Vidalia Bulbs

available late March – April
Georgia
case
Local
Late-April to early-May is the kickoff to new crop local items. We work with over 40 local purveyors to capture the abundance the mid-Atlantic region has to offer.
April
Asparagus will start poking out of the dirt fields in Maryland and Virginia in early April. We partner with Godfrey's Farm and Parker Farms throughout the season. It will be a volume-fill case meaning the sizes will vary from standard to jumbo.
North Carolina kicks off the strawberry around late April, depending on weather. These sweet berries come from Lewis Nursery and Farm.
May
April showers brings May…broccoli, cabbage, squash, berries, and greens. That's how the saying goes, right? Our Virginian farm partners at Newmarket Farms, Parker Farms, and Lois Produce & Herbs are flourishing with new crops. Plus, Richardson Farms in Maryland will begin their new crop of kale, collard, and mustard greens.
Saying Farewell to a Local Legend – Hummingbird Farms
Jennifer Lawson Sturmer has dedicated her career to growing the most flavorful tomatoes, including beefsteak, heirloom, cherry, and clusters. Hummingbird Farms in Ridgely, Maryland has been growing hydroponic tomatoes over 30 years, producing around 11 tons of tomatoes per week. Jennifer's tomatoes have cultivated a fan-following across the metro-DC area. Keany has been grateful for this long-standing partnership spanning her 30 years of business.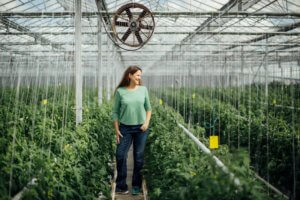 In 2019, when the state Department of Agriculture allowed hemp to be grown, Hummingbird Farms partnered with the University of Maryland – Eastern Shore for a new venture to provide products that promote health and wellness. These products, Humming Buds, contain premium craft hemp flowers that are hydroponically grown and cured without any harmful pesticides and chemicals.
While we will miss Jennifer's delicious tomatoes, we wish her and her team the best of luck in this new endeavor.
As of now, we do not have a replacement for hydroponic tomatoes, but we will work with you to source the best substitute for you.