Sustainability Update: Recycled Pallets
Sustainability Update by Jenna Keany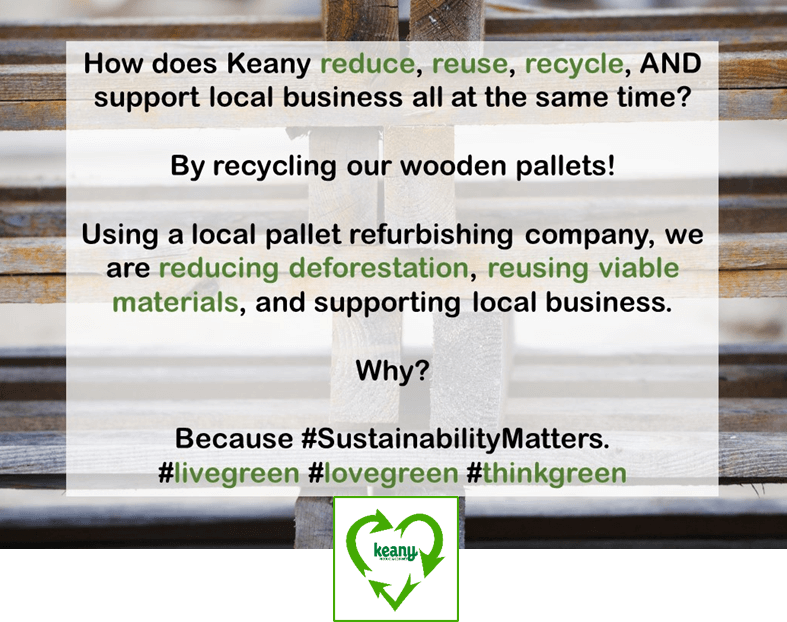 How does Keany Produce & Gourmet reduce, reuse, recycle, and support local business all at the same time? By recycling our wooden pallets!

Wooden pallets are collected in both of our facilities – Emerald Isle in Richmond, VA and Keany Produce & Gourmet in Landover, MD – by a local company called Allied Pallet Company. The company collects the broken pallets and takes them to their reconditioning plant in New Kent, VA, where they are refurbished and transformed into new viable pallets.

According to data from 2013 Hardwood Market Report, wooden pallets and wooden shipping containers consume 44% of all the hardwood produced in the United States. By partnering with Allied Pallet Company, we are extending the product's life-span dramatically. Not only does this reduce the amount of waste we generate, but it reduces the demand for raw materials to produce new pallets. In turn, we are restricting superfluous expenditure of natural resources used in lumber production, transportation, and assembly.

And finally, we are always willing and ready to support other local businesses in the DC, MD, and VA area, such as Allied Pallet Company. We know the importance of community, and hope to sustain a long and prosperous relationship with all of our local partners.