What the Fungi: Mushroom Market Alert
post by: Cassidy Williams
What the fungi is going on with mushrooms?
Keany Produce and all distributors across the country are dealing with multiple supply chain issues within the fresh produce industry. The latest constraint is affecting an entire, very popular, commodity – mushrooms.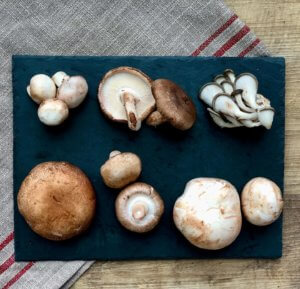 We work with various mushroom growers to fulfill our orders. All our mushroom farm partners are located in what is considered the "Mushroom Capital of the World", Kennett Square, Pennsylvania. Although located just a few hundred miles north of our facilities, we are facing drastic issues affecting our supplies. We are being prorated anywhere from 50-90% on all mushroom varieties – button, cremini, portobella, oyster, shiitake, etc.
These shortages stem from a multitude of issues in the aftermath of the global pandemic. Like many industries, the farmers are struggling to find and retain labor. Due to this reduction in labor, their production or harvest of the mushrooms has been reduced.
Moreover, the raw materials to produce and grow mushrooms have been impacted
by supply chain disruptions. It can take upwards of 30 different inputs to facilitate new mushroom crop growth. For instance, shiitake mushrooms are grown on logs. These logs are shipped from China, which were backlogged (pun intended) at US ports delaying the growth and harvest process for our US mushroom nurseries.
The American Mushroom Institute predicts these ongoing issues will last through the new year, thus affecting mushroom sales for the upcoming holiday season.
Keany Produce is working diligently to source from multiple vendors, but we will be consistently forced to cut our customers orders of mushrooms for the foreseeable future. Please consider the possibility of subs or removing from your menus altogether. Again, we anticipate relief in January on supply, however, we cannot project when costs will level out. We apologize for the inconvenience and will keep you informed as new information becomes available. We appreciate your patience and understanding.