Be Part of a Growing Family
Keany Produce & Gourmet is a recognized leader in the wholesale produce industry. We have a dedicated team that is involved in every facet of getting fresh produce from farms to restaurants and businesses throughout the Mid-Atlantic region, and we offer exceptional opportunities for a variety of careers. We are constantly looking for new talent, and have a tradition of giving all our people opportunities for advancement.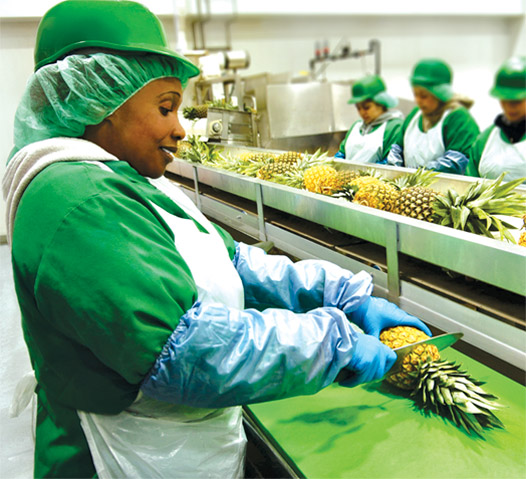 If you are interested in joining our hard working team of professionals, please complete our Employment Application and Invitation to Self-Identify Form, and fax completed applications to 301-618-5493 or deliver to the address below.
Keany Produce is located within walking distance from the Landover Metro Station.
Keany Produce & Gourmet
Human Resources Department
3310 75th Avenue
Landover, MD  20785
* You may also send us your resume to the address above.
Keany Produce & Gourmet is an Equal Opportunity Employer. All qualified applicants will receive consideration for employment and will not be discriminated against on the basis of disability or veteran status.
*EOEAA /M/F/Vet/Disability VEVRAA Federal Contractor*
We currently have the following positions open:
Receptionist
Job Description
The Receptionist serves as the first point of contact to many Keany Produce Company clients, guests, and employees either in person or by telephone. The Front Desk Receptionist will serve callers, visitors, and employees by greeting and directing them to the appropriate person for department for further assistance. This person will also support the Customer Service Department and the Human Resources Department.
Job Duties Include:
Welcomes visitors and perspective employees to the company by answering telephone calls, determining nature of business, and directing callers to appropriate destination.
Maintains safe and clean reception area by complying with established policies and procedures.
Helps to maintain Human Resources calendar with road tests and interviews.
Assemble new hire packets
Distribute to and collect Human Resources forms from Keany Produce employees, employment candidates, employees and its affiliates.
Additional Job Functions:
Maintain human resources filing system (Employment Applications, I-9s, Time Off Requests, Applicant Self Identification, and Voluntary Veteran Self Identification.
Complete special assignments that involve the creation of forms and / or documents.
Assist with general administrative duties for Keany Produce & Gourmet.
Inputs customer orders on an as needed basis as instructed by the Customer Service Manager.
Job Requirements:
Education: High School Diploma or equivalency, Associate Degree is preferred.
Experience: 2 – 5 years front desk receptionist, call center, human resources, and general administrative experience
Knowledge: Microsoft WORD, EXCEL, Microsoft OUTLOOK
Skills & Abilities: Must have strong communication skills with a professional phone demeanor. Ability to work in a fast paced, professional environment and balance several different assignments at once, be a self-starter, and work independently. Flexibility and adaptable to change in work assignments and priorities. Attention to detail, professionalism, customer focus, organization, informing others, and CONFIDENTIALITY.
Delivery Truck Driver – All Shifts
Transportation
Delivery Truck Driver – All Shifts
Job Description
Ensuring that produce, dairy, and dry good products are delivered to Keany customers in a manner that meets or exceeds customer expectations. In addition, the Deliver Truck Driver is responsible for operating Keany vehicles in a safe and professional manner as well as reporting any vehicle maintenance issues using proper inspection format and verbal communication to supervisors.
Responsibilities
Deliver, unload, pick-up, and return produce, dairy products, and dry goods to/from Keany Produce customers and suppliers which may include multiple routes per day
Use the UPS Logistics Mobilecast program to review route assignments and log locations while making deliveries using a Nextel Direct Connect handset/phone
Review paperwork for assigned route(s) to ensure all invoices are present and in good condition
Inspect cargo loads to ensure appropriate packing
Prepare customer orders and verify them with delivery invoices for accuracy, deliver products, remove them from the vehicle to customer facility, and assist with check in and placement of products
Receive signatures on invoices for items delivered and collect money if applicable
Assist Warehouse and Customer Care departments in picking and loading any shorted product for delivery routes
Notify Customer Care Department of delivery delays, shorts, or errors that may arise
Ensure that all vehicles are clean at the end of each shift.
Perform and document pre-trip and post-trip inspection in proper DOT format
Triage any vehicle issues needing immediate triage or repair
Ensure DOT required documentation is maintained (driver's license, driving record, and medical examiner's card)
Accurately tracks hours worked to maintain DOT compliance Qualifications
High school diploma or its equivalent
Requirements
2-3 years verifiable driving experience
State of Maryland, Virginia, or District of Columbia driver's license
Ability to obtain and DOT Medical Examiner's card
Ability to pass at DOT road test
Must be able to operate manual and automatic 26ft delivery truck
Delivery Truck Mover
Transportation
Delivery Truck Mover
Job Description
To provide driving support to the Transportation Department and the Warehouse Department of Keany Produce Company as it relates to the preparation, staging, loading, and unloading of its delivery trucks.
Responsibilities:
Move all vehicles not in use, from warehouse doors to parking locations for storage.
Move all vehicles that supervisors request into warehouse door locations as specified.
Ensure that company vehicles (primarily delivery trucks) are in the appropriate locations within facility.
Ensure that all vehicles are cleaned out properly by drivers.
Perform local pick-ups and deliveries between vendors.
Perform and document pre-trip inspections in proper Department of Transportation (D.O.T.) format.
Triage any vehicle issues needing immediate attention or repair.
Maintain communication with supervisors to ensure D.O.T. required documentation is maintained
Requirements:
High School diploma or its equivalent
General knowledge of commonly-used concepts, practices, and procedures within the transportation field
Ability to operate manual and automatic 26 ft delivery trucks
Ability to pass a Human Performance Evaluation administered by Keany's third party medical provider.
State of Maryland, State of Virginia, or District of Columbia Driver's License.
Possess a Department of Transportation Medical Examiner's Card
A current driving record with no more than 2 negative points